Rally for Recovery
SAVE THE DATE
The 2017 Rally for Recovery National Hub event will be held on Saturday, September 9th in Salt Lake City Utah in partnership with the Utah Support Advocates for Recovery Awareness (USARA).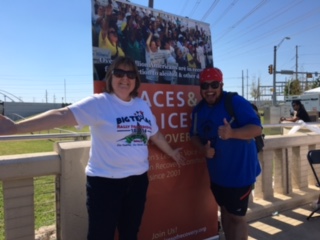 Rallies for Recovery! happen every September all across the nation and the world. Faces & Voices of Recovery selects one city for each annual national hub event.  Every year, we work with local and state recovery community organizations and allies to hold marches, walks, town-hall meetings, picnics and other events in September as part of National Alcohol and Drug Addiction Recovery Month.  Our 2016 Rally for Recovery took place in Dallas, Texas on October 2nd.
In 2015, over 120,000 people turned out for recovery across the nation as part of Rally for Recovery! At the events, people in recovery, their families, friends and allies are encouraged to participate in civic life through voter registration and education and celebrate their growing visibility. Each event reflects the interests of organizers, frequently combining family activities like face painting, music and great food with advocacy activities like walks around the State Capitol and opportunities to meet and speak with elected officials. Our growing numbers are drawing the attention of elected officials.
Register your event with us. Don't forget to post your events on the National Recovery Month web site also.
Rally for Recovery! Organizing Tools: