2017 Recovery Month Luncheon
Faces & Voices of Recovery and the Addiction Policy Forum are pleased to co-host the 2017 Recovery Month Luncheon on September 7th in Washington, D.C.  Check back soon for information about registration and sponsorship opportunities.
SEPTEMBER IS NATIONAL RECOVERY MONTH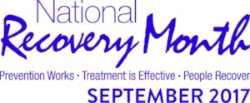 September is identified by the Substance Abuse and Mental Health Services Administration (SAMHSA) as National Recovery Month.  During Recovery Month, Faces & Voices of Recovery hosts and supports a variety of events that celebrate the success of people in recovery and provide valuable information about prevention, treatment and recovery support. 
Recovery Month Events:
Recovery Month Toolkit
Each year, Recovery Month creates a toolkit to help individuals and organizations increase awareness of the power of recovery. The kit provides tips and resources for planning Recovery Month events and distributing information in communities across the nation. Find the SAMHSA Recovery Month Toolkit here.
The toolkit contains the following sections
Media Outreach- provides instructions to plan and promote Recovery Month activities and events, writing an op-ed, planning an editorial board meeting, and templates to customize and send to local and online media outlets.
Targeted Outreach- offers audience-specific information about the benefits of recovery, the effectiveness of treatment, and tips to overcome challenges during the recovery process.
Voices for Recovery- presents snapshots of individuals on different recovery pathways speaking up and reaching out to openly discuss mental and/or substance use disorders.
Common Mental Disorders and Misused Substances - provides specific information about some of the most common mental disorders and misused substances.
Treatment and Recovery Support Services - provides links to organizations that provide information and resources about prevention, treatment, and recovery support services that are available to people facing mental and/or substance use disorders.
Fast Facts - provides a list of relevant facts highlighting that behavioral health is essential to health, prevention works, treatment is effective, and people recover from mental and/or substance use disorders.
Data Visualization - includes infographics about behavioral health and substance use disorders, prevention, and treatment and recovery.