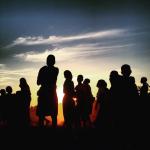 In 2001, at Faces & Voices of Recovery's founding, our keynote speaker was William White- the iconic recovery movement mentor and guide. He charged us with the mission to go and make some history. We did then and continue today.
I'm sometimes called an elder recovery statesman and recovery ambassador. Moreover, I am a person in long-term recovery. As an elder, I'm aware that alcohol and other drug addiction does not discriminate based on age. From the beginning, Faces and Voices of Recovery has initiated, motivated, and led the beginning and growth of the diverse organizations in the recovery movement. This includes Seniors in Recovery and Young People in Recovery. The faces and voices of young and old bring the message of hope, health, and happiness.
The power of their stories is foundational to the recognition of the reality of recovery. Those older and in long term recovery obviously have lot of experience, strength and hope to share. Young people entering recovery will have decades of life, service, and advocacy ahead of them. They will be confident in their recovery and will stand up, standout, speak out and be proud about it. What a difference this will make for them, their peers, their families, and the world!
Elders have a responsibility to recognize that our youth are our future and we must love, nurture, protect, educate, and invest in them. The pay-off is huge.