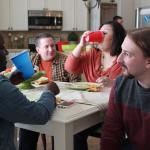 Obviously, history has been made since the beginning of time but wasn't recorded until relatively recent times. One thing certain is that the travelers, teachers, and troubadours of old told and sang stories that informed and entertained. Circles around campfires and huddles around hearths created communities. The means of the telling have changed dramatically but the personal stories with the important element of humanity provide the power. Tahir Shah, a travel writer, said, "Stories are a communal currency of humanity." We can read and enjoy stories; however, a story's power comes from seeing the face and hearing the voice of the person with feeling, gestures, smiles, and tears. This is the case for the stories of cancer survivors and of those who have overcome addiction to alcohol and other drugs.
Faces & Voices of Recovery was founded on the principle that by our silence we let others define us. When we break our silence and tell our stories about the experience of addiction and recovery, the language we use is important. The Mental Health Parity and Addiction Equity Act, clearly identifies addiction as a mental health issue, and further, a substance use disorder. It can be prevented, but if diagnosed can be treated. Mental Health organizations do not speak of mental illness, but issues of mental health and wellness. Faces & Voices recognized that language matters and labels are harmful. Those who find recovery should not identify as addicts or alcoholics, but as persons in long-term recovery from drug addiction, a substance use disorder. We recover from a hopeless state of mind and body that exemplifies the disorder. People and media love "war" stories, but recovery stories are about peace. It is a peace that comes from the mental health and well being of recovery.
One example of a long used but strange use of words is referring to a person using or not using drugs as either "dirty" or "clean. Those are terms better used as a reference to hygiene, not drug use or abstinence. The White House Office of National Drug Control Policy is developing a glossary of suggested language. It is a big step in reducing stigma and discrimination. As those in long-term recovery stand up, stand out, speak out, and are proud about it—remember, language matters. Persons concerned about speaking about their recovery can use few words, but certainly can learn to use new words.
About the Author: Merlyn Karst is retired executive and active advocate for alcohol, prescription, and other drug driven mental health and wellness problems. He was a founding member of Advocates Recovery-Colorado and Faces & Voices of Recovery. He received the America Honors Recovery Award in 2008. He lives in Denver, Colorado.