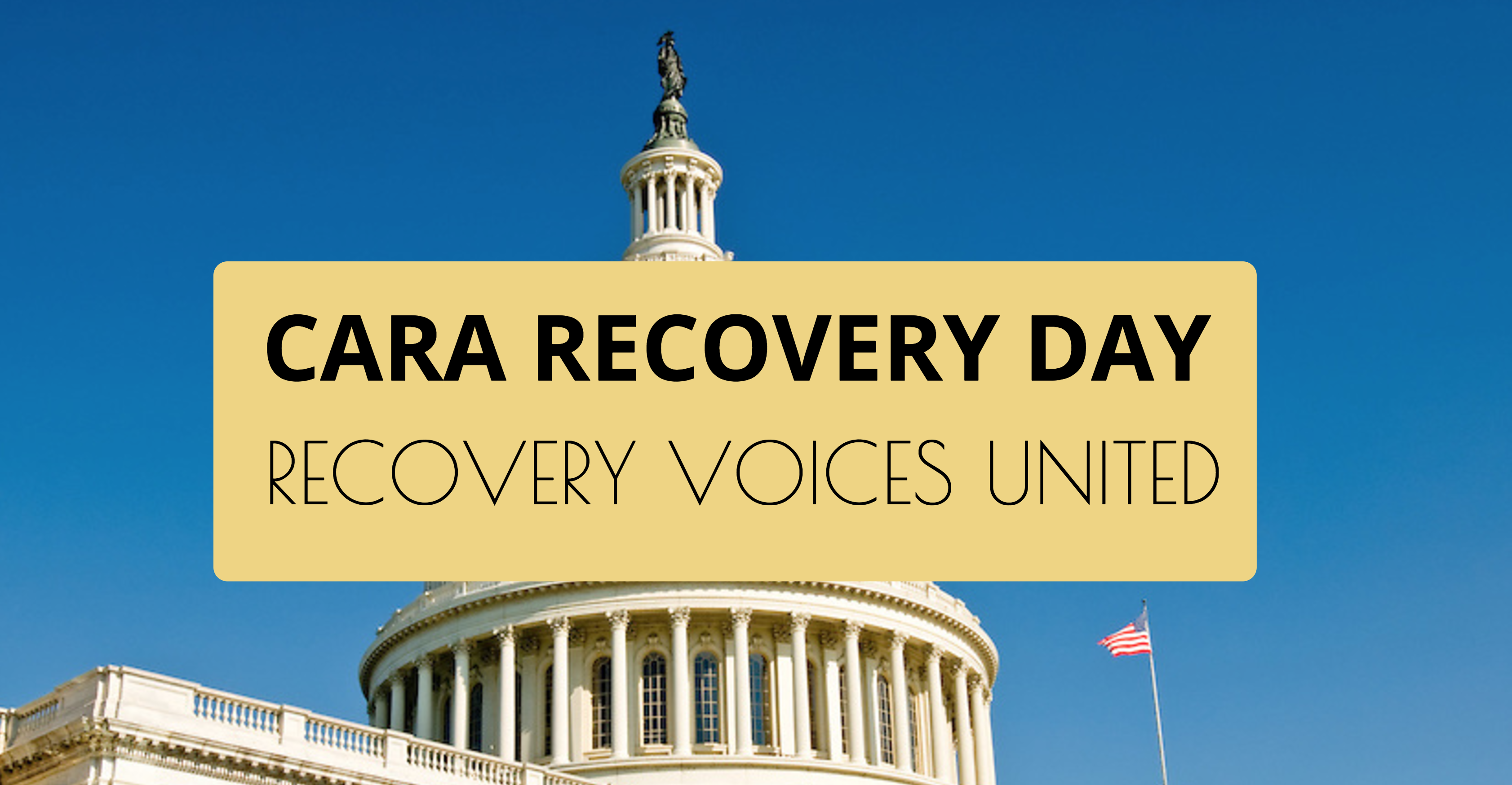 CARA RECOVERY DAY, will be held in the nation's capitol on March 1, 2017, and is named after the Comprehensive Addiction and Recovery Act (CARA) of 2016. It is an event hosted by Faces & Voices of Recovery and co-sponsored by national recovery organization partners. Our recovery voices represent young people in recovery, recovery high schools, collegiate recovery programs, recovery residences and recovery community organizations. Our recovery voices are united. The agenda is to bring attention to the recovery support services that are critical to a comprehensive approach to addressing addiction and supporting individuals in recovery.
CARA of 2016 is the most expansive federal, bipartisan legislation to date for addiction support services, designating $181.1 million toward advancing treatment and recovery support services in state and local communities across the country. After CARA was signed, I posted the following on Facebook: We must continue to make our case that investment in recovery support pays big dividends. The overwhelming evidence of the positive financial impact of recovery is growing. Mental health and wellness in recovery is where it all pays off. We can believe that the statement " follow the money" will change to "hey money—follow us."
Requests for funds to "follow us" will usually be followed by questions about the use of the funds and how evidence of positive outcomes will be tracked and reported. From whatever source, it is a reasonable concern and request. The encouraging news is that many providers of treatment and recovery support services are developing comprehensive data gathering systems that capture and measure outcomes. The Paul Wellstone and Pete Domenici Mental Health Parity and Addiction Equity Act of 2008 (MHPAEA) is a federal law that requires group health plans and health insurance issuers to provide mental health or substance use disorder (MH/SUD) benefits. Good data regarding outcomes is essential to the decisions about amount of coverage and the possibility of incentives to manage costs, provide recovery management platforms, establish sustainability, and provide for wellness and long-term recovery. The experience and knowledge gained can also give informed attention to prevention.
An important source for money is through public support of institutions and grant money. However, with emerging Social Entrepreneurs, there are growing resources available through private investment. We understand Return on Investment (ROI.) We need understanding of Investment In Our Recovery (IOR), an investment that pays big recovery dividends. We need the attention and investment of social entrepreneurs' and their collaborative resources. They create economic and social value: By creating jobs, producing income, and nurturing and supporting the health and mental wellness among their employees. This contributes to the economic renewal of the communities where they live and operate. Add to that the multiplier effect, in which employees of socially oriented organizations also have the opportunity to spend their income and grow the local economy. Faces and Voices of Recovery and the Association of Recovery Community Organizations, (ARCO) is in the process of creating a common data platform for all ARCO members to collect data/outcomes.  ARCO will own and use the aggregate data to advance the peer services movement. This will prove the effectiveness of peer services and attract investment as we show the evidence of reality of recovery
These are critical times, with many uncertainties, and we must deal with the situation in no uncertain terms. We need ingenuity, passion, and action on the part of individuals, agencies, and our own ARCO members. We can retain and maintain the momentum we established over the past years. In crisis there are attentive ears to hear. Stand up, standout, speak up, and be proud about it.