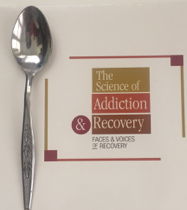 No, I am not channeling Julie Andrews as Mary Poppins. There has been a lot of attention given to the subject of medication-assisted treatment and recovery. As we met in St. Paul in 2001, we started the session with these words: by our silence, we let others define us and finished with let's go make some history. In between start and finish, we gained the wisdom of lived experience from our peers. My knowledge of many drugs was second hand, I personally knew only alcohol. It done for me, till it done me in—as Eliza Doolittle might have said.  I was introduced to more about methadone and a term before unknown to me: medication-assisted recovery. Over time, I was exposed to the controversy that surrounded methadone maintenance. I recall statements like: a drug is a drug is a drug— well maybe except when it's alcohol and nicotine. Attitudes, stigma, and lack of understanding were, and still are, barriers to acceptance of the many paths to recovery. Change is coming as minds are changing.
                  In St Paul, I met two persons who made a significant impact on my understanding of the nature and purpose of methadone—Lisa Mojer-Torres and Walter Ginter.  Both were later to be recognized with America Honors Recovery Awards. Walter wrote on the tenth anniversary of Faces and Voices of Recovery, "prior to St. Paul there was no such thing as medication-assisted recovery. It wasn't like methadone was joyously welcomed in St Paul but we were there." Walter has a long history in the field and has contributed much during his leadership.  He is founding Project Director of the Medication Assisted Recovery Support (MARS™) Project. The project is designed to provide peer recovery support to persons whose recovery from opiate addiction is assisted by medication. I found some interesting information.  At the MARS™ project, patients learn from peers that methadone and buprenorphine are "not substitute drugs, they're medications," said Mr. Ginter. "And suddenly, that person is a candidate for recovery. Before that, they never had a choice." Peers believe peers.
                  During our time together in St Paul, Lisa Mojer-Torres demonstrated the power of her advocacy. Before her death in April 2011, Lisa had served as a founding member and first chairperson of Faces and Voices of Recovery. She was a board member of the National Alliance of Methadone Advocates. Lisa was a champion advocate, writing with Bill White, the 2010 monograph, Recovery-Oriented Methadone Maintenance. Bill had also met Lisa for the first time in St Paul.  He has written about that meeting: "My thinking about medication-assisted recovery had been evolving for years from open hostility to ambivalence to tepid support to intellectual advocacy (and concluded) but the power and eloquence of Lisa's story marks the first time I accepted medication-assisted recovery in my gut."  Lisa most certainly added to my wisdom and understanding and it has served me well. Over the past years, thousands of others and I have increased our knowledge of the science of addiction through reading and hearing words from Nora Volkow, M.D., and Director of the National Institute on Drug Abuse (NIDA). Flo Hilliard, Faces and Voices of Recovery's trainer on the Science of Addiction and Recovery, has trained many of us to become trainers.
            In a previous blog I wrote: There are professionals with knowledge of the science of addiction who can prescribe appropriate drugs. Methadone, buprenorphine, naloxone, and naltrexone can all be effective in treating opioid addiction. Nalaxone HCI (NARCAN), can prevent overdose deaths.  Medications are often an important part of treatment, more so when combined with behavioral therapies. All lead to the essential ability to think clearly and responsibly. Recovery from addiction leads to physical and mental well-being and alternatives to prolonged medicinal drug use. In another blog titled: The Role of Medicine in Addiction Treatment, Bill White wrote: "Imagine that the vast majority of organizations specializing in treatment of your condition have no affiliation with a hospital or other primary healthcare facility. Imagine the existence of FDA-approved medications specifically for treatment of your condition, but that you will not be informed about nor have access to these medications as part of your prescribed treatment. These are precisely the circumstances encountered today by the majority of people entering addiction treatment in the U.S."   The opiate epidemic presents opportunity to educate about prevention, treatment, and recovery. Publications and dialogue must continue to inform and encourage understanding of the brain and how craving overrides all rational thought. The brain says we are doing fine on drugs—until the body betrays us. Hope. Healing, and health, are all within our grasp—if we extend our reach.
            Thanks to all who have made contributions to this blog.  As I have said, when words fail me, I look to the words of others to serve us all—including Julie Andrews.