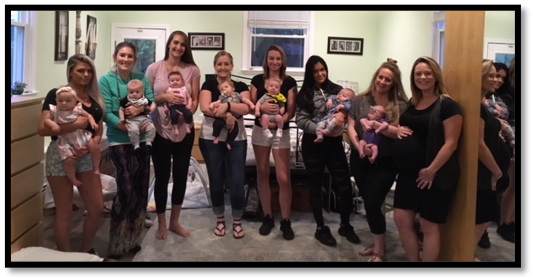 Motherhood can be difficult and scary.  There's no handbook to it and the stress that comes with motherhood can be exhausting, overwhelming, and sometimes unbearable.  You don't know if you're doing a good job, and frankly everyone is ready to give advice that you haven't asked for.  It's a life changing event that can move you away from your friends and family, requires sleepless nights, and dazed days.  For the average mom, this can be daunting so we can only imagine what it's like for someone trying to juggle being a mom and maintaining their recovery from a substance use disorder. 
Support for women in recovery is a key component and these women have found a way to do just that.  Through their pregnancy's 8 women have figured out how to survive the tough times and celebrate their milestones.  From sonograms and glucose tests to labor and delivery, Molly Dieter, Alannah Gout, Caroline Covington, Emilee Blackburn, Stephanie Pletsch, Kaitlyn (Kati) Kelly, Dara Brown, and Kaitlin Newberger (pictured left to right), have been there together, side by side, as they each welcome their bundle of joy and change the world as we know it, one baby at a time!
Faces & Voices of Recovery sat down with the women to get an inside look into their recovery support system.  Ranging from ages 23 to 33, these women have found a way to stick and stay on their paths to recovery.  Finding themselves sharing the same lived experience of pregnancy prompted Kati Kelly to act.  After a night of fellowshipping Kati realized that there was a need for additional support as she traveled the road to motherhood.  Soon after, she started a group chat on FaceBook and each time a woman in recovery announced she was pregnant, she was added to the group.  The group has been sharing their ups and downs for about six months.  Every topic under the sun is covered, from relationships to sex to things they struggle with, they have become "Mama's in Recovery".
As they continue down this journey, they have all been faced with tough decisions.  Emilee found pregnancy extremely draining, "I was so tired it was hard to make it to fellowship meetings".  While Caroline pictured her birth being this beautiful experience, only to face a C-section and needing pain medication, "I was able to share that with the group and not be judged".  Caroline sharing her experience gave Molly the opportunity to share hers as well.  This ripple effect of support afforded Emilee to gain the support she needed when had to take pain medication after her birth.  It didn't stop there.  The support continued as they talked about breastfeeding and even made plans to stop smoking!  For these women, they found that it's not about the destination but more about the journey. 
This journey included their past history.  Stephanie expressed her feelings about using with her first baby which prompted the others to speak up.  The guilt and shame associated with addiction can weigh on a new mom, but these women have been there for each other.  Molly struggled when her baby was born, "I had a hard time connecting at first…I just felt numb".  It's in times like this that a support group keeps everyone afloat.  "No one understand like the group does", said Emilee.  Stephanie responds, "Yes, I feel like a burden to others but not to this group".  That is the power of a support system.  The understanding and the ability to lean on each other is imperative for sustainable recovery.  This group is not just about the pregnancy, it's about the bond recovery brings and the changes that they are making for their children.
This bond brings hope to their children as they are exposed to a world of recovery.  The women spoke about the possibility of addiction for their babies and each of them conveyed a message of hope.  They all realize that they cannot prevent what may come of their children but what they do know is that if it were to come, their children would have the power of recovery in their corner.  Alannah stated, "I had to be who everyone else wanted me to be and not who I wanted to be, I don't want that for my children…I want them to feel good enough".  Stephanie went on to say, "I want them to feel comfortable in their own skin".  This is a common theme as the women continued to articulate their experiences.  The feeling of not being good enough, not comfortable in your own skin, unable to talk to family about the struggles.  It's something many battle with during active addiction and for these women it's no different. 
It's so important for people in recovery to have a support system and as life shows up, recovery evolves.  For the ladies, that evolution comes in the form of motherhood.  Nevertheless, they have found a way to continue to connect to recovery.  There are trials and tribulations but there are also triumphs.  It's about sharing yourself with others and accepting help in all aspects of life.  Each and every one of these women have an opportunity to grow together, share their hopes and dreams, and continue their paths of recovery through friendship.  To end, we asked each of the women to share what recovery means to them:  Molly: Integrity, Alannah: Powerful, Caroline: Present (a gift and in the moment), Emilee: Second Chance, Stephanie: Grateful, Kati: Hope, Dara: Rewarding, and Kaitlin: Hope.  They have found that this journey cannot be traveled alone and they have created a village that will stand the test of time for both themselves and their babies.  Together they have made a difference!
Stay tuned monthly as Faces & Voices of Recovery features each woman in a one-on-one interview!