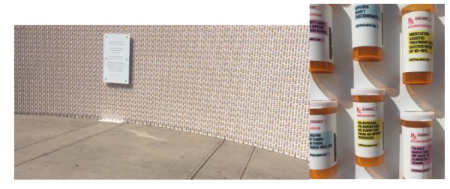 This year Denver Colorado was the city that held Faces & Voices of Recovery's national hub event. It was also the 15th annual Rally hosted by Advocates for Recovery-Colorado (AFR-C). I am privileged to having attended all of them. In our present crisis, presentations featured words from those who understand the science of addiction and the value of medically assisted recovery (MAR) to save lives. It brings understanding and focus on Alcohol and Other Drugs (AOD) use disorders.  A remembrance wall and tree gave recognition to those who died from opiate overdose in the U.S. and Colorado. The wall was constructed of 420 prescription bottles, one for each 10 who died. Each carried a message. One said, to face addiction, we have to eliminate shame. Another said, Opiates don't discriminate.
We were pleased to have Faces & Voices Executive Director, Patty Metcalf McCarthy with us.  She wrote in a recent blog, For decades, recovery advocates have come together at rallies across the nation and internationally to support a cause near and dear to our hearts, and personal for so many of us. Recovery from addiction is a cause for celebration and rallies are held to share our excitement and enthusiasm for the promise and hope that recovery provide. Her presence and words at our rally gave encouragement and power to the words we use to spread the word about the reality of recovery.  Tonya Wheeler, AFR's Executive Director, masterfully conducted the ceremonies.
In the years of planning rallies, the unknown was, the number of prospective attendees. I often had unrealistic expectations and was reminded of a Casey Stengel saying. "if they are not going to come, you can't stop them." At the inception of our campaign to put a face and voice on recovery, we knew that the factors of anonymity, stigma, and discrimination would need attention. The other was the absence of data that support the fact that recovery is possible and happens for millions.  Bill White was present during the inception of our campaign and has written on this subject.   Mark Twain's statement may be  appropriate here.  " It is not what we know, but what we know that just ain't so."
The following are excerpts from Bill White's most recent blog which is to be found on this site. Titled, Variations in Recovery Identification Adoption, he writes,   "A significant portion of people who resolve alcohol and other drug (AOD) problems do not embrace a recovery identity—do not see themselves as recovered, recovering, or in recovery. " It is important to read the entire blog as he goes on include information from a just published study by Dr. John Kelly and his colleagues of the Recovery Research Institute. There is now data that addresses that and related questions.  Here are some of their major findings. Note the following; "Of the 45.1% of people who had resolved an AOD self-identified as "in recovery", 39.5% had never seen themselves as being "in recovery", and 15.4% once identified as being "in recovery" but no longer embraced a recovery identity. Of all people with recovery identification at some point in their lives, 25% no longer embrace a recovery identity." 
Perhaps it might explain what, in my mind, are the missing multitudes when we call for participation in events and action from the recovery community.   As Bill states, the fact that less than half of people who have resolved a significant AOD problem see themselves as "in recovery" is a striking finding. Are we ready to introduce ourselves to the other half and face the challenges such contact will inevitably bring to prevailing ideas and service practices? "  In closing his blog, Bill asks, "what do you think". I think about the words referring to "people who have resolved a significant AOD problem" and find it important that people have found answers to their significant AOD problem. Those answers have value whether the person identifies with recovery or not. There is "peerness" in their experience and is useful to those who have not resolved significant AOD problems. My question is, how do we reach this resource "the other half" and broaden the reach of peer support services by helping those identify as "peers"?  
Merlyn Karst