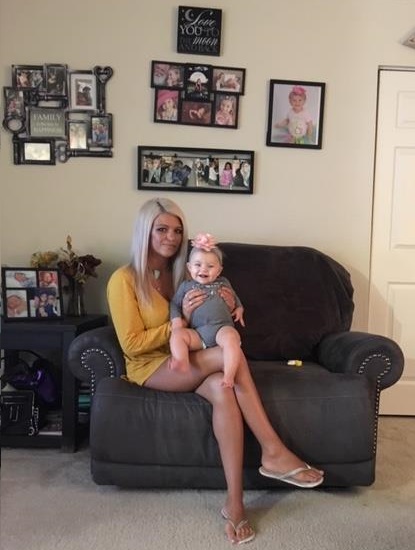 Meet Molly, one of our "Mama's in Recovery".  Molly took the time to sit down with Faces & Voices of Recovery to share a bit of her story. 
Molly Dieter is a 27 year old mother of two, in recovery.  She picked up her first drug at around 11 years old.  Mostly it was finding pills around the house and trying to smoking tea bags.  At the age of 12 the disease of addiction began to progress and Molly found herself dibbling and dabbling with alcohol and marijuana.  When she was younger, she had friends but most of them, according to Molly, "drifted away when I started using…I was the wild one and using helped me release my inhibitions".  In 2012, at the ripe age of 21, Molly entered her first treatment program but she soon found herself slipping in and out of active addiction, "relapse is a huge part of my story and I could only get to 8 months before I used again".  This last time, "the opportunity just presented itself and I justified it by saying that I was keeping my older daughter Kaedynce safe.  I took the drugs out of the vicinity of my daughter, and the next thing I know, I used…you never know when the opportunity is going to arise and if you're not ready for it…".  Molly quickly got back in the saddle and continued on her recovery path.  This time it was different, "I had some recovery and it was easier for me to come back".  Molly relied on her network to pull her back in and, as a member of a fellowship, Molly quickly took to her sponsor for support and guidance.  Now with 16 months of recovery, Molly continues her journey, sharing herself with the Mama's in Recovery.
Molly is a stay at home mom and the Mama's in Recovery help her tremendously.  From picking up her 7 year old at the bus stop to taking care of baby Serena, Molly leans on the ladies for support.  "The group chats…get me out of my shell…I have acquaintances but not deep friendships…these girls make plans and I just show up…it's hard sometimes to accept that they are there for me and that they care.  I wonder sometimes if they do but they really do care".  For Molly, connecting can be difficult because she can't stand small talk, for her, "it's easy to connect because it's not always face to face or when we do meet up, it's not a one on one.  I feel better in a group and if it's a lot of us, I don't have to entertain someone".  Molly still struggles from time to time, "social drinking sounds more appetizing than using drugs, but when the feelings come, I write on my step and …the girls are my outlet".  Molly is also adjusting to the life of a stay at home mom, "It can be hard sometimes, it's good most days but it is a struggle when I have to rely on someone else, financially".  The struggle to find purpose, for Molly can be challenging, "Sometimes I feel like I'm not contributing to society but the girls remind me that I am doing a job, I'm just not getting paid for it".  Often, that can leave Molly in a lonely place but the Mama's in Recovery help her find that inner strength, "We have private conversations and they follow up with me, so I know they are thinking about me".  Every day Molly talks to the Mama's, "We are up late at night for feedings…the girls are really helpful during those times when I have to sit with myself". 
For Molly, the ladies have really been a huge part of her recovery process. Her goal is to go back to school one day and find a career path helping others. With the love and support of the Mama's in Recovery, we are sure she'll reach her goal.  Faces & Voices of Recovery is proud to be a part of Molly's network and we are grateful she has shared her recovery with us!  Stay tuned as we continue to follow Molly's journey as she changes the world through her passion and the love she gives to both of her babies, Kaedynce and Serena!  She has a village and she is making a difference!