THE LISA MOJER-TORRES AWARD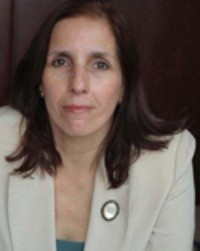 The Lisa Mojer-Torres Award honors a tenacious fighter who believed in the dignity and rights of every person. Her inquiring and challenging mind offered new insights and by example, she encouraged us to stand up and speak out on behalf of all pathways to recovery, including the use of medications. She was instrumental in the founding of Faces & Voices of Recovery. In her service as our first board chair, her leadership and presence at our helm contributed to a significant shift in understanding about addiction recovery and the need to end discriminatory policies and practices.
Lisa fit her passion and advocacy into an already busy life - giving of her time and talent while juggling work and family life with her husband Roland and sons Matthew and Liam. She brought her story of recovery with compassion to diverse communities and tailored her communications to fit each audience – be it service providers, researchers, policymakers, family members or people seeking or in long-term recovery. She was a recovery communicator – speaking clearly, poignantly and passionately about her own experiences. She built lasting bridges across the recovery community, "the more we learn about addiction, the advances of science, the full range of treatments and the variety of paths leading to recovery, the better prepared we will be to choose our own path."
Lisa was everywhere. She was an attorney who specialized in civil rights law for persons in recovery. Her advocacy activities spanned television and press interviews, Congressional testimony, policy advisor (from the Institute of Medicine to CSAT's National Advisory Committee), one-on-one lobbying, author, and relentless educator and courageous defender. Lisa died in 2011 after a prolonged struggle with ovarian cancer. We salute her tireless, passionate, committed advocacy for recovery.
 
Lisa Mojer-Torres Awardees