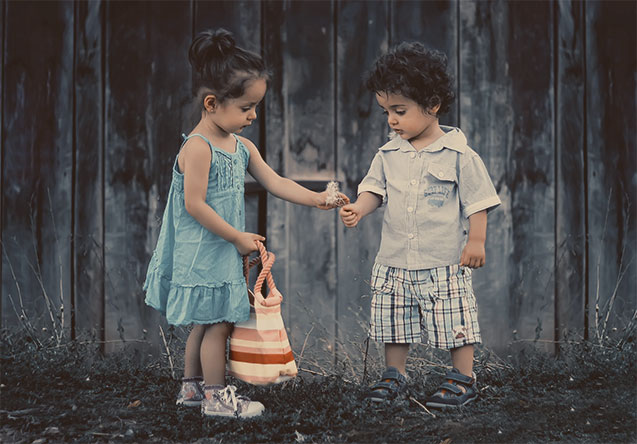 Alcoholism is one of the leading causes of family dysfunction. An estimated 6.6 million children under 18 live in households with at least one alcoholic parent. About 43% of adults in the US (76 million people) have had a parent, child, sibling or spouse who is or was an alcoholic. The National Association for Children of Alcoholics (NACOA) is endeavors to raise awareness of children affected by parental alcohol problems. It is probable that the effects of addiction may first be evident in the classroom. National attention through NACOA is concentrated on informing the public about the issues and reaching out to children in a meaningful way.
It is noted that children who live in families in which there is a history of alcohol or drug abuse feel isolated and don't often have the coping skills to deal with their feelings of confusion, anger and a sense of loss. In the Betty Ford Children's Program, boys and girls, seven to twelve years old, learn about alcoholism and drug abuse, and how to separate the person they love from the disorder that consumes them. So, good news is that there is help and hope for children and for those they love. A parent suffering from addiction, which is a mental health related substance use disorder, can find help and hope. Parenting in recovery involves high hope of healing, healthy change, and regaining trust. It is a process that requires great patience. The process of recovery requires commitment, dedication, and discipline. Parents deal with shame and guilt involving their children with a wish to be forgiven and trusted. Parents are working to restore trust and parental authority and reset effective boundaries. Children are dealing with significant change. They have experienced a combination of freedom and fear, coupled with accepting adult responsibility by necessity. In the recovering family, kids like to keep the freedom without the fear and with less responsibility.
Jerry Moe , Founder and National Director of the Betty Ford Children's Program tells us there is a growing understanding that a troubled home life can undermine a child's progress in school. "Sometimes the first place where the effects of addiction are evident is in the classroom. " Jerry Moe is also a provider of education in Parenting in Recovery: The Healing Journey. He covers helpful points under the following titles: Give time; love unconditionally; communicate honestly; provide a balanced structure; practice self-care; and forgive. Jerry shares the power of stories and lived experience gained over the years with parents and children. He suggests we read, Positive Discipline for Parenting in Recovery, authors Jane Nelsen, Riki Intner, and Lynn Lott, all professional counselors working with parents in recovery, note that discipline is difficult for every family. When a parent is recovering from drug or alcohol abuse, setting and upholding behavioral limits can be particularly tough. In this familial situation, it's possible that trust has been broken, emotional boundaries trampled, and abuse perpetrated.
There are many resources for information through treatment and recovery support service providers and the Association of Recovery Community Organizations. (ARCO). The 23 million plus persons in recovery are a positive resource for recovering families through peer recovery support. Bill White reminds us: "Even as a single voice, you can convey a motto of the new recovery advocacy movement:  Recovery by any means necessary under any circumstances. As Ghandi challenged, we must become the change we wish to see in the world.  We can stand with millions of others or stand as a movement of one. But stand we must and shall.  All that is needed to seed recovery advocacy at a local level is a story, a commitment, and a sense or urgency. "
Merlyn Karst