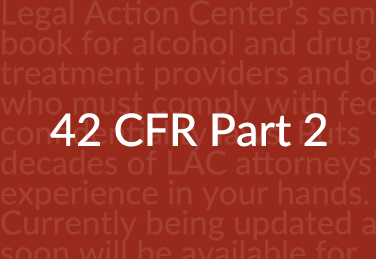 CQ NEWS
Sept. 29, 2017 – 5:00 a.m.
Lawmakers Renew Push to Change Addiction Privacy Rules
By Andrew Siddons, CQ
Lawmakers in both chambers are renewing a push to overhaul the privacy protections for medical records related to addiction treatment and have support from a range of groups including doctors and insurers. But many consumer groups are wary of the effort.
At issue are federal rules requiring addiction treatment records to be kept private, even from other doctors and medical providers seeing a patient. If a primary care physician or a dentist wants these records, they first need a signed authorization from the patient. These records are kept separate from other health records because those suffering from addiction might be participating in illegal drug use. The strong privacy protections are meant to encourage people to seek treatment.
But many doctors, insurers and some lawmakers think the regulations, known as "Part 2" requirements for their location within the federal regulatory code, do more harm than good. They argue the enhanced protections prevent the proper coordination of care between different health providers and exacerbate the stigma surrounding substance use disorders. Supporters of changing the system cite cases when patients who suffer from addiction were prescribed opioid painkillers by doctors unaware of their history.
Enacting these changes is a signature issue for Pennsylvania Republican Rep. Tim Murphy. His bill (HR 3545) mirrors language he pushed in the last session during debate on a bill to improve mental health care. But the provision never made it in to the mental health provisions of part of a wide-ranging health research bill (PL 114-255) enacted at the end of the 114th Congress.
"What the law does is it blinds the physician to the medical record," Murphy told CQ. He says current law prevents doctors from knowing crucial health information, and argues that would be considered malpractice if it were related to any other condition. "This is government-required ignorance to the facts of a medical record."
Murphy's bill would instead apply to addiction records the privacy standards in place for all other medical records, put in place by the Health Insurance Portability and Accountability Act of 1996 (PL 104-191) and known as HIPAA. A similar bill (S 1850) was introduced by Senate Democrat Joe Manchin III and Republican Shelley Moore Capito, both of West Virginia.
Manchin and Capito dedicated the effort to Jessie Grubb, who was recovering from heroin addiction when a doctor inadvertently prescribed her opioids after a surgery. The West Virginia woman overdosed and died last March at the age of 30.
While these lawmakers say changes to the law would prevent cases like this, some groups aren't so sure. On Wednesday, more than 100 groups, led by the Legal Action Center, took a position against any changes. They say requiring patients to consent to have the information shared is a simple step and note that emergency room physicians do not require consent to access this information. They say changes could have unintended consequences.
The current policy "is as essential now as it ever was, not just to protect the privacy of substance use disorder patients in this age of constant data breaches, but also making people in need of care feel safe enough to go into treatment," said Paul Samuels, president of the Legal Action Center, a non-profit that fights discrimination against people with addiction and HIV/AIDS.
While both bills contain language meant to protect against use of addiction records by law enforcement or in criminal court, the groups skeptical of the change say it leaves the door open for the information to be used against people during civil matters, such as employment or child custody disputes.
They also note that the administration changed the Part 2 regulations earlier this year. Now, instead of requiring a patient's authorization for each member of a medical team, only a single authorization would be needed for the group.
With that change in place, Samuels said Part 2 is not a barrier to coordinating care. "What's needed is for people to understand the rules and know when they can make disclosures, and for the health care providers to work well with the patients," he said.
Murphy and his allies doubt that conversations between health providers and patients are happening the way they should. "As people travel across multiple parts of the health care delivery system, we're counting on a lot of conversations happening, and I think it puts safe care at risk," said Sherry Dubester, the insurer Anthem's vice president of behavioral health.
The Energy and Commerce Committee plans to hold a hearing on opioid abuse the week of Oct. 23. Murphy said the committee wants to approve some substance abuse-related bills this year. But some key lawmakers share the patient groups' concerns. During the last Congress, Energy and Commerce Democrats opposed Murphy's attempts to replace Part 2 protections with HIPAA. A committee aide said that position hasn't changed.
However, among the House bill's 10 sponsors are three Democrats, including Rep. Earl Blumenauer of Oregon, and the Senate bill's five co-sponsors includes liberals such as California Sens. Dianne Feinstein and Kamala Harris. It also has backing from a wide range of health groups, particularly doctors and insurers like the American Society of Addiction Medicine, the Blue Cross Blue Shield Association and the National Alliance on Mental Illness.
"If we want the best quality evidence-based care for patients, Part 2, the way it is currently written gets in the way of that," Pamela Greenberg, the president and CEO for the Association for Behavioral Health and Wellness, which represents insurers and supports the change, said in an interview.