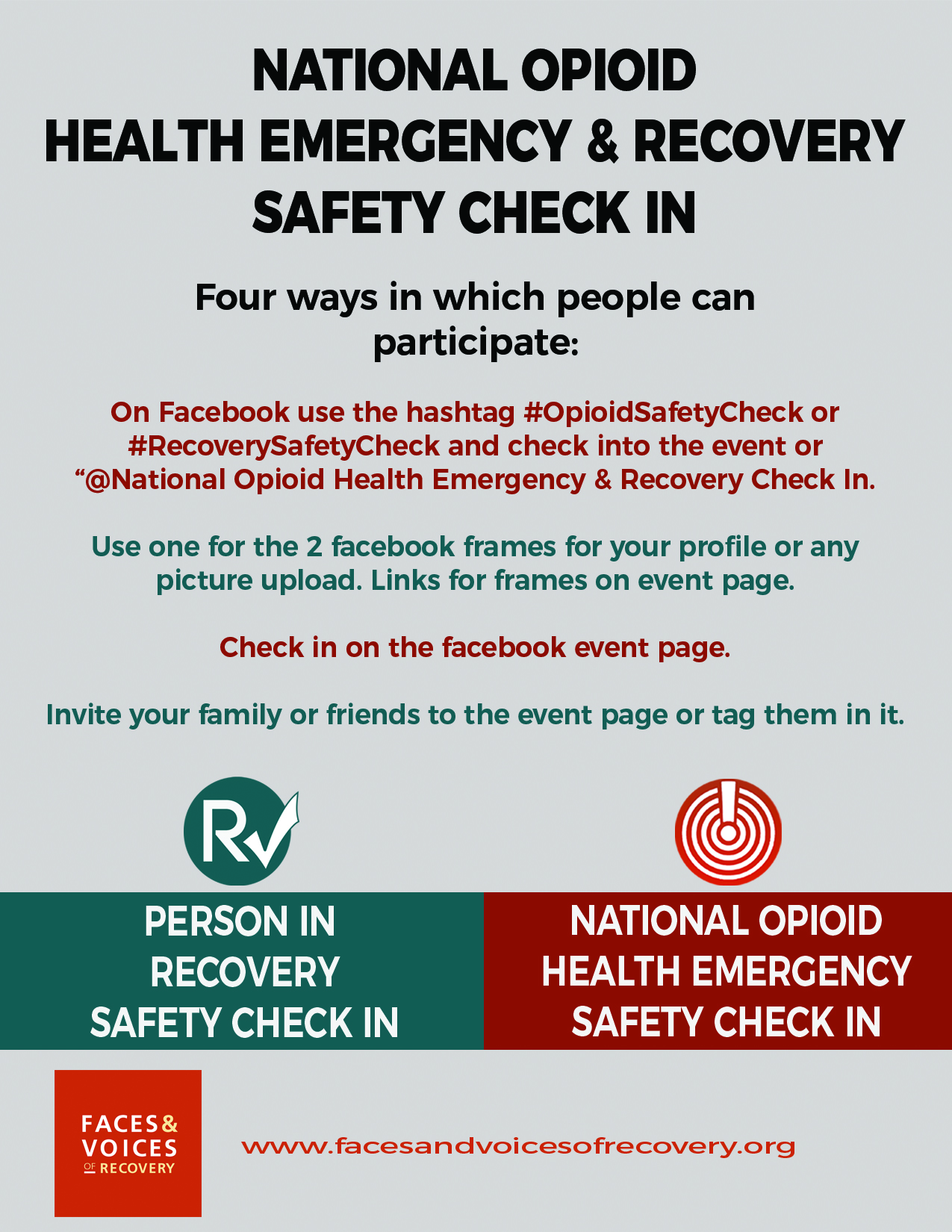 FOR IMMEDIATE RELEASE - FACES & VOICES of RECOVERY
NATIONAL OPIOID HEALTH EMERGENCY & RECOVERY SAFETY CHECK IN CAMAPAIGN
DECEMBER 11, 2017
Faces & Voices of Recovery is launching a campaign for people to "check in" as "safe" using a Facebook event page, profile frame or social media hashtag. In Oct 2017 President Trump Directed the Department of Health and Human Service to declare the Opioid Epidemic a "National Emergency" creating broader conversation and potential initiatives to help individuals and family members seeking help. As a National Leader in Recovery Advocacy, we believe this is a necessary step in following that address and looking into the future for innovative means to address the opioid and all substance use disorder issues.
The National Opioid Health Emergency & Recovery Safety Check In campaign will offer individuals one location to share with family, friends and other loved ones their current status of "safe" whether currently using opioids or in a pathway of Recovery. We know that often there can be great physical and sometimes emotional distances between people for a number of reasons, our goal is to create a ways and means for people to connect and find help where they are at.
With the remainder of the 2017 Holidays approaching, the stress of both wondering where a family member or friend might be is especially difficult. The same can be true for people in the Recovery community navigating the pressures and stress this time of year. With our event page and facebook profile frames, people will have the ability to let others know that they are "safe".
It is our hope that facebook will identify the National Opioid Health Emergency on the Crisis Check in app, thus making it even easier for individuals to connect via check in, access resources, and give some peace of mind to families and friends across the US.
Four ways in which people can participate:
On Facebook use the hashtag #OpioidSafetyCheck or #RecoverySafetyCheck and check into the event or "@National Opioid Health Emergency & Recovery Check IN
Use one for the 2 facebook frames for your profile or any picture upload. Links to frames on facebook event page
Check in on the event page
Invite your family or friends to the event page or tag them in it
The resources being offered on the the event pages are:
Faces & Voices of Recovery RCO Map:
facesandvoicesofrecovery.org/arco/rcos-on-the-map.html
SAMHSA Treatment Locator:
https://findtreatment.samhsa.gov/
Georgia Councel on Substance Abuse National CARES Line
Call or Text: 1-844-326-5400*** 8:30am - 11:00pm CST
Crisis Text Line:
Text HOME to 741741
Partnership for Drug Free Kids - Parent Hotline
1-855-378-4373
Facebook event page: https://www.facebook.com/events/868183376665856/
Profile Frames:
Opioid Health Emergency:
www.facebook.com/fbcameraeffects/tryit/533250547029443/
Recovery Safety Check In:
www.facebook.com/fbcameraeffects/tryit/322150341597057/
Contact
Jesse Heffernan
National Outreach & Empowerment Coordinator
Faces & Voices of Recovery
202-741-9293
jheffernan@facesandvoicesofrecovery.org