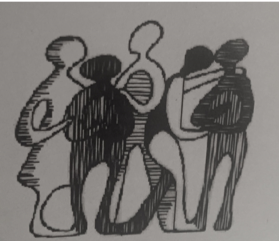 I was listening to James Taylor's song, "Fire and Rain." He wrote about his lived experience. A friend died, he had a "monkey on his back" and spent time in rehab for a "drug problem." He wrote this line: I've seen lonely times when I could not find a friend. He found one in Carol King and collaborated on the song "You've Got a Friend. I like this verse:  you're down and troubled and you need some love and care… the distant past, I enjoyed the drug alcohol, my only drug of choice. It was cheap, accessible, and legal. It served many purposes, alleviating pain in mind and body. I came to realize the pain stays mainly in the brain. Eliza Doolittle "My Fair Lady" might have said, it done well for me, till it done me in. I learned from a friend that alcohol is out to kill you, but first it wants to get you alone. It wants to be your best and only friend.  And, I might add, it says, you don't need family either.
When I sought change, help, and hope, I found friends and fellowship with others seeking the same.
I determined my own definition of fellowship: The connection made and kept between the heads and hearts of others with a common purpose and mutual support.  Another James Taylor verse from Fire and Rain said, won't you look down upon me, Jesus; You've got to help me make a stand. You've just got to see me through another day. I saw faith work for others but was also reminded of a line from one of the Life of Christ movies. Jesus was walking among the multitudes before the Sermon on the Mount and said, "If you don't believe in me, believe in what I teach. Over the years, I have heard the stories of many who began by saying, "you won't believe this" but the power of their stories of recovery made a believer out of me. Today, the power of stories from the faces and voices of recovery are fundamental to the recovery movement. We are the evidence. Perceive and Believe.
Recovery voices have been heard in the halls of Congress.  As the result of the dedication and powerful advocacy, the Opioid Treatment and Recovery Act includes policies and resources that support people in recovery from addiction across the lifespan. From caring for infants and babies, to youth in recovery, to housing, employment, recovery coaching, and recovery community organizations, the bill has a heavy emphasis on recovery, like nothing we've ever seen before.  Members of the Association of Recovery Community Organizations (ARCO) at Faces & Voices of Recovery made a difference when they met with Members of Congress on their Hill Day in July, and shared their personal stories of recovery and the critical work they are providing in communities across the nation. Their advocacy throughout the year has demonstrated the powerful voice of the organized recovery advocacy movement.
The bill is over 600+ pages long but I paid attention to the titles of some sections. Sec. 7151. Building communities of recovery. This provision reauthorizes and modifies the Building Communities of Recovery program to include peer support networks. This program provides funding for community organizations providing long-term recovery support services related to substance use disorder. Sec. 7152. Peer support technical assistance center. This provision requires HHS to establish or operate a National Peer-Run Training and Technical Assistance Center for Addiction Recovery Support, to provide technical assistance and support to recovery. Notable others: Sec. 8206. Reauthorization of drug court program; and Sec. 8207. Drug court training and technical assistance.
Substantial funding will be available through grants and pilot programs. There will be opportunities and opportunists. There are oversight provisions and I'm aware that one provision of the program will help end the exploitation of patients suffering from a substance use disorder by curtailing a detestable practice known as patient brokering.  These brokers cash in on patients by recruiting them to new  "treatment centers" in return for financial kickbacks. New treatment opportunists are appearing on the scene. Many of these acts will be illegal, with substantial penalties.  
There is fellowship in recovery communities. Working together, the battle against addiction access to help, hope, and health can be made greater.  We can win the tools provided through peer support services, medically assisted recovery (MAT), the data driven solutions, and the science and resources developed by mental health and addiction professionals. We can lead many to find their path to recovery and along the path, develop friendships among their peers. We have the opportunity to build and grow the recovery advocacy movement on the foundation of fellowship. Faces & Voices of Recovery was born in 2001 as we went forth with the words, "Let's Go Make Some History." We have more history to make in our future.