Advocacy 101
Since 2001, Faces & Voices of Recovery has been leading national advocacy efforts to educate and provide information about substance use disorders and recovery for policy makers and our community. We want our legislatures to make informed decisions about individuals who need access to health care and funding for prevention, treatment and recovery support services. 
Faces & Voices of Recovery hosts and supports a variety of annual "Rally for Recovery" events during Recovery Month throughout the nation. The event is Recovery Advocacy in Action and provides an opportunity for our legislatures to see the positive impact of their decisions to fund prevention, treatment and recovery programs. These advocacy efforts bring together thousands of people across the nation, who are the Voices of Recovery, to communicate to our government leaders the positive impact that prevention, treatment and recovery support has on the individuals and families in recovery. 
Our goal is to impact the decisions about proposed Bills and funding cuts, and to raise awareness that every dollar spent on substance use services has personal benefit to American citizens in need of help. As we increase our advocacy efforts and this level of support we will continue to reduce the barriers that many people seeking help often face.  
WE ARE A CONSTITUENCY OF CONSEQUENCE.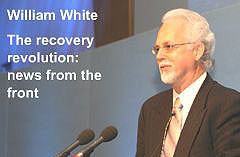 "Today, we stand, here and abroad, reaching across geographical, political, racial, and cultural barriers, to mobilize our growing numbers and influence. Today, we stand to reach our goal of engaging those who still suffer and creating a world in which recovery is supported and celebrated. Today, we stand to remind ourselves and to send a message to those still wounded: Recovery is contagious. If you want it, you have to get close to it and stay close to it. You have to catch it and keep catching it. And you have to pass it on to others! For far too long we have knelt with bowed heads, not in humility or prayer, but in shame. Today, we stand as one—in our gratitude for the fruits of recovery and in our commitment to service. Today, we stand to write the future of addiction recovery in America."
William L. White (2010)