Recovery Event Calendar
Recovery Ambassador Gala Performance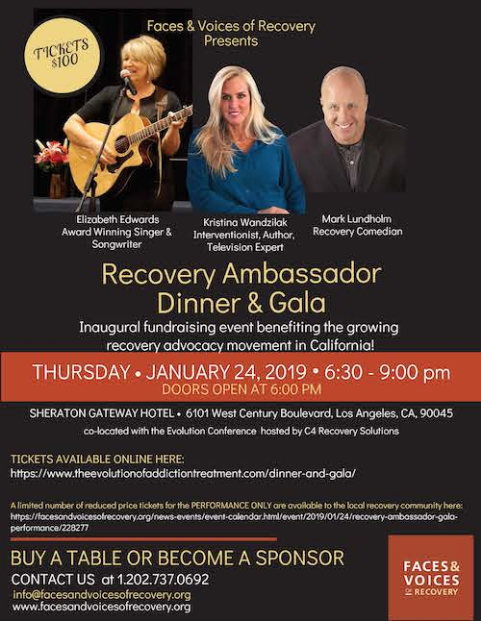 Location: Sheraton Gateway Hotel, 6101 West Century Boulevard, Los Angeles, CA 90045
**Reduced price tickets for the local recovery community can be purchased here for $30. This ticket includes the evening performance only and does not include dinner. Entry to the banquet hall will begin at 7:30 pm.
Enjoy an evening of inspiration and entertainment at the Dinner & Gala hosted by Faces & Voices of Recovery. Join master of ceremonies Kristina Wandzilak, an interventionist, author, and television expert while listening to a musical performance by singer, songwriter, and activist, Elizabeth Edwards followed by a comedy performance by comedian and recovery advocate, Mark Lundholm.
This fundraiser supports the launch of the California Recovery Ambassadors Initiative empowering vocal and visible recovery advocates across California. The discounted price for the performance only is $30 and is available to the local recovery community.
To purchase a ticket for the Dinner AND Gala go to:
https://www.theevolutionofaddictiontreatment.com/dinner-and-gala/