RCO BOOTCAMP - NEW ORLEANS, LA
Wednesday, May 16, 2018 & Thursday, May 17, 2018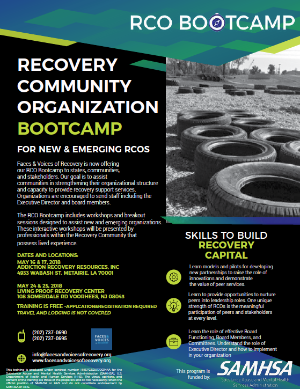 The Substance Abuse and Mental Health Administration (SAMHSA) is offering a RCO Bootcamp designed to assist new and emerging Recovery Community Organizations in strengthening their organizational structure and capacity to provide recovery support services. Organizations are encouraged to send several staff, including the Executive Director, key personnel and even board members.
The RCO Bootcamp includes workshops and breakout sessions designed to assist new RCO leaders. 

Participants will learn skills to launch or build capacity of their RCO:
Learn new ways to demonstrate the value of peer services with stakeholders in your community.
Learn about guiding and supporting peers into leadership roles. One unique strength of RCO's is the meaningful participation of peers and stakeholders at every level.

Learn the role of effective Board Functioning, Board Members, and Committees. Understand the role of Executive Director and how to implement in your organization

Learn how to create a strategic plan and how to sustain your work
This 1 and a half day workshop is free to attend. Travel and accommodations are not included.
Register for the Bootcamp using the registration link below
This form stopped accepting submissions on May 15, 2018 12:00 am EDT.
---
RCO Bootcamp Schedule and Travel Logistics
1.5 day Training for New and Emerging Recovery Community Organizations
Hosted by Faces & Voices of Recovery, sponsored by the Substance Abuse and Mental Health Services Administration (SAMHSA).
Free training for new and emerging recovery community organizations. 
Up to four individuals from each organization are welcome to attend. Executive Director, key staff, and board members welcome.
Dates:  May 16 & 17, 2018
Wednesday, May 16th, 2018 | 8:30 am - 5:00 pm EST
Thursday,     May  17th, 2018 | 8:30 am - 12:30 pm EST
Location: 
Addiction Recovery Resources, Inc
4933 Wabash St. Metairie, LA 70001
What to Wear -  Casual attire is welcome.
Weather -  The weather in Metairie at this time of year is generally in the 90's.  Humid with a chance for thunderstorms.
Travel and lodging not included.
Nearby Hotels:
Wyndham Garden Hotel:$95/night
6401 Veterans Memorial Blvd, Metairie, LA, 70003
 
DoubleTree by Hilton Hotel New Orleans Airport (call for rate) 1-504-467-3111 
2150 Veterans Memorial Boulevard, Kenner, Louisiana, 70062
Daisy Dukes -  Local chain serving seafood & Cajun-Southern comfort fare in a warm, relaxed atmosphere. Directions. 3 minute drive.
Cafe Du Monde - Iconic New Orleans cafe known for café au laits, chicory coffee & beignets since 1862. Directions.  3 minute drive. 
Carrabba's Italian Grill - Chain eatery & bar serving a diverse menu of classic Italian fare in a family-friendly setting. Directions. 4 minute drive.
Gio's Pizza & Spaghetti House - Comfort food, quick bite, cozy. Directions. 3 minute drive. 
Zita's La Pizzeria LLC -  Simple shopping-center pizzeria dispensing basic pies, calzones & sandwiches to eat in or take out. Directions. 3 minute drive. 
Piccadilly Restaurants - Southern cafeteria chain dishing up American comfort classics in a simple, family-friendly setting. Directions.  5 minute drive.
Don's Seafood - Family-friendly sit-down spot for fried seafood, steaks & Cajun fare in a low-key setting. Directions.  4 minute drive.
CONTACT INFO
 Theresa O'Laughlin
 tolaughlin@facesandvoicesofrecovery.org
 202.737.0690