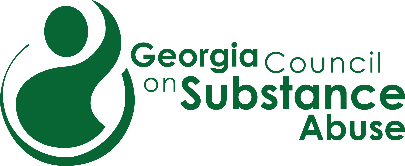 Located at 100 Edgewood Ave., Ste. 1005, Atlanta, Georgia 30303
Mission Statement:
"Increasing the impact of recovery in Georgia's communities through education, advocacy, training, and peer support services."
Services Offered:
Certified Addiction Recovery Empowerment Specialist (CARES/CPS-AD) training.
NE Georgia Community Connections
Recovery Community Organization Development
Building Communities of Recovery
Recovery Education and Training
Proudest Accomplishments: 
GCSA is the sole training agency for Georgia's Medicaid billable addictive diseases peer workforce - Certified Addiction Recovery Empowerment Specialists (CARES). With a highly competitive application process, GCSA has trained more than 600 peers in Georgia and across the country. CARES are playing a defining role in not only changing how people with substance use disorder are viewed, but more importantly, how they are treated.
Contact
Georgia Council on Substance Abuse, Inc can be reached via email at: info@gasubstanceabuse.org  
Please visit our website to find out more about how we support recovery!