Deborah Garrett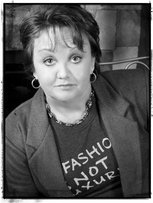 Deborah Garrett holds a Bachelors of Science in Psychology, is a Certified Peer Recovery Mentor,  and a Certified Prevention Specialist. She is currently completing her Masters level education in Non-Profit Leadership and Administration. She is also a person in long-term recovery since 2000.  
Her unique work experience as a clinician who is trained as a first-responder for local emergency women's services and in delivering trauma informed care makes her well-suited to help organizations take a fresh look at how their organizations are meeting the needs of women in the substance use field.  
She was the Director of REAL Michigan, a statewide Federal program building infrastructure between recovery community organizations in the state from 2014-2017. That and her background as a prevention specialist have provided her with a thorough background in community organizing and capacity building that can benefit organizations in the field.  
She has organized two leadership academies for state recovery community organizations. She was on the planning committee for Faces and Voices of Recovery's Recovery Month Nation Hub event in 2012 and sat on the planning committee for state recovery month events for nine years. She has provided technical assistance for the planning of The MI Association of Alcoholism and Drug Abuse Counselors annual conferences since 2011.