The 21ST Century Cures Act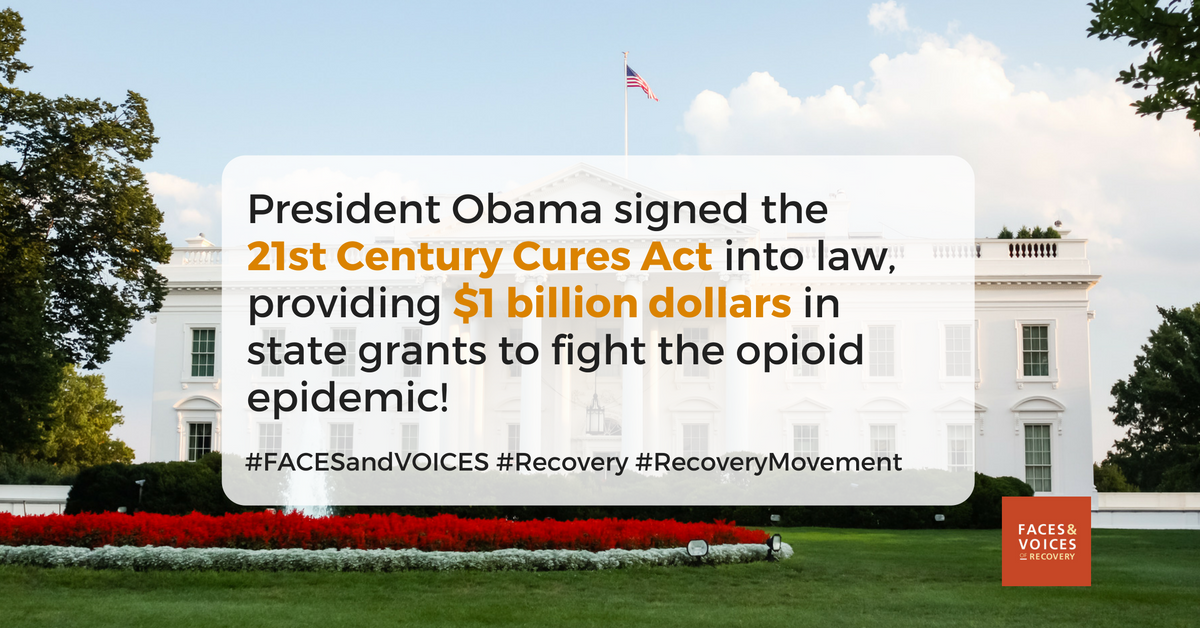 On December 13, 2016, President Obama signed the 21st Century CURES Act.  The law is now in effect and provides $1 billion in funding for prevention, treatment and recovery. SAMHSA has released a Funding Opportunity Announcement (FOA) for states and territories to apply for funding to combat the opioid epidemic in their states.
---
On December 10, 2016, the President signed the continuing resolution into law, which included $500 million dollars to fight the opioid epidemic. The previous night, the Senate passed the continuing resolution in a 63-to-36 vote, funding the federal government through April 28, 2017.
---
On December 7th, the 21st Century Cures Act passed the Senate in a bipartisan vote of 94-to-5 and is headed to the President's desk to be signed into law.
The package includes key provisions on substance use disorders, criminal justice reform and mental health, including $1 billion dollars in grants for states to fight the opioid epidemic. 
"We lose one American life to the disease of opioid addiction every twelve minutes. The 21st Century Cures Act will build on the Comprehensive Addiction and Recovery Act by increasing funding by $1 billion over two years. This bipartisan bill will give the millions of families affected by addiction more hope, and I believe that it will make a difference in their lives," stated Senator Rob Portman (R-OH).

"Today, we are one step closer to getting critical funding to combat the opioid crisis that is devastating New Hampshire families and communities," said Senator Shaheen (D-NH). "This time last year, I introduced legislation that would immediately provide emergency funds to law enforcement and providers on the frontlines focused on treatment and recovery; now, finally, Congress is moving forward. I'm also relieved that this bill ensures that funding will be directed to the areas of the country with the most need. Those on the frontlines have waited long enough for Congress to take this epidemic seriously."
---
110 Organizations Send Letter to Congress in Support of the 21st Century Cures Act
On November 30, 2016, 110 national organizations that work on addiction issues sent a letter to Congressional leadership in support of the 21st Century Cures Act, and its provisions on substance use disorders, mental health, and criminal justice reform. 
Read the letter here. 
 
---
7 WAYS THE 21ST CENTURY CURES ACT IMPROVES OUR RESPONSE TO ADDICTION 
 
Authorizes $1 billion dollars for states in grants to address addiction through a comprehensive response that includes prevention, treatment, prescription drug monitoring programs, opioid treatment programs, and other key components;
Creates federal drug courts, which will help better serve the 6.8 million people involved in the federal criminal justice system;
Encourages integration of care for substance use disorders with primary care for patients with mental and/or substance use disorders by making it a condition for state-level grant dollars;
Creates a new program for alternatives to incarceration for individuals with substance use disorders;
Reauthorizes the STOP Act (Sober Truth on Preventing Underage Drinking) to continue to address underage drinking and adds new prevention, screening, and intervention provisions;
Increases training for prevention, treatment and recovery support workforces; and,
Authorizes $12.5 million to strengthen community crisis response systems for substance use and mental disorders.